The African population is approximately 1.2 billion, and the rest of the world has about 140 million persons who identify as of African ancestry. The Africans scattered across the globe are an invaluable resource, waiting to be effectively harnessed by their respective African home states. Over the years, these African sons and daughters have accultured to their new homes and in the process learned lessons that can prove useful for Africa's development.
The diaspora was constituted as the sixth region in 2003 by the Africa Union  to encourage the participation of people of African origin living outside the continent. Therefore, diasporas are important agents of socio- economic development in their countries of origin that remains grossly underutilised by their home governments. Very few African leaders have programs that meaningfully and effectively engage these citizens at scale. Africans in the diaspora can play a critical role in crisis situations, specifically in supporting post-disaster recovery processes. The diaspora contributes to Africa's development in 5 key ways as shown in Fig. 1 below.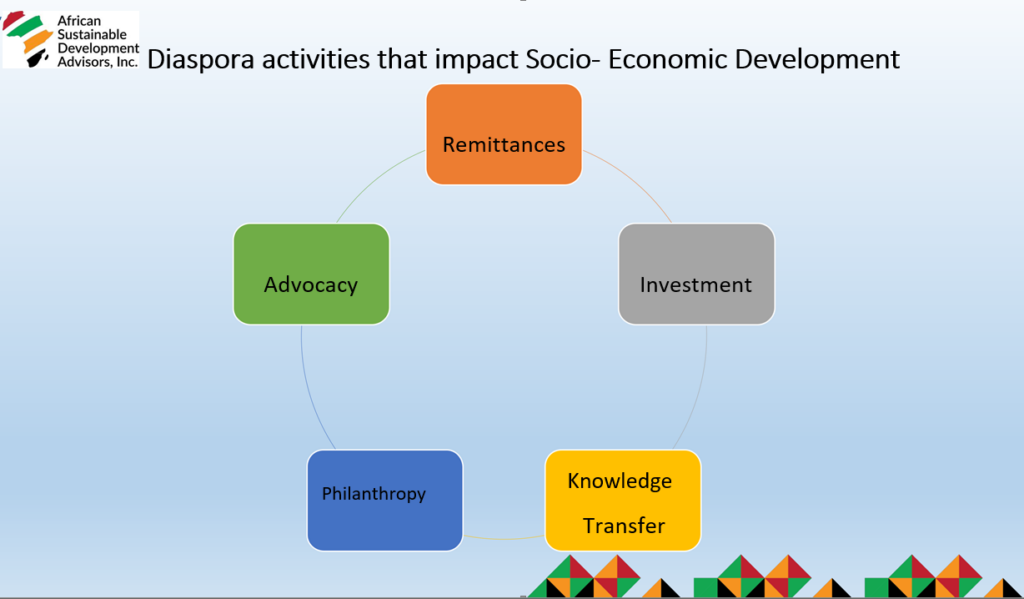 Remittances to Africa are an important financial resource. According to the OECD data for the past 2 decades, remittances as a percentage of GDP have been on a general steady increase across Africa, totalling an estimated US$48 billion in 2019 (Fig. 2).  For families in Africa, remittances allow them to afford food, healthcare, education, and among other basic needs.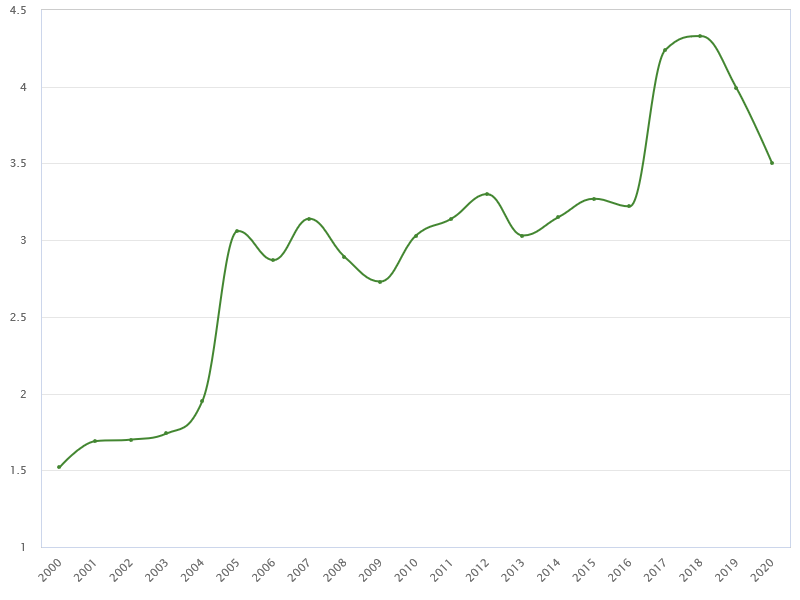 Besides affording families an improved livelihood, remittances are an underutilised source of capital for investment. Among African countries such as Nigeria and South Africa, an average 2% of business respondents reported remittances as the source of their business capital while in Bangladesh its about 8% (Source: OECD, Future of Business Survey). Differences in investment behaviours can be explored to provide a more conducive investment environment for the diaspora, a crucial step towards sustainable self-financing for Africa's development.
More importantly, the diaspora can support with knowledge transfer to home countries. International organisations such as the IOM have realised this and created programs, e.g., Connecting Diaspora for Development (CD4D), to facilitate skills and knowledge transfer to migrants' home countries. The role of African governments in facilitating such programs cannot be overemphasized, as programs ensure continued and lasting relations between citizens in the diaspora and their home countries, cementing their support for sustainable development. It is to the detriment of all Africa to ignore the African diaspora as it can help create a generation that promotes equality, equity and inclusion; invest in education and the transfer of technical know-how and technology to their countries of origin.
Strong relations between home countries and the diaspora can effectively make the citizens abroad strong policy advocates to governments, international and regional organisations to develop, adopt and implement evidence-based policies that positively impact on both Africans at home and abroad. Democracy and governance in Africa remain issues of grave concern, and this is one strategy governments can utilise to effectively and meaningfully engage their citizens. As African advocates, diasporas can support, develop and adopt a strong communication strategy that will change the negative image of Africa in the world.